Botanical Facial Steam by So Posh Beauty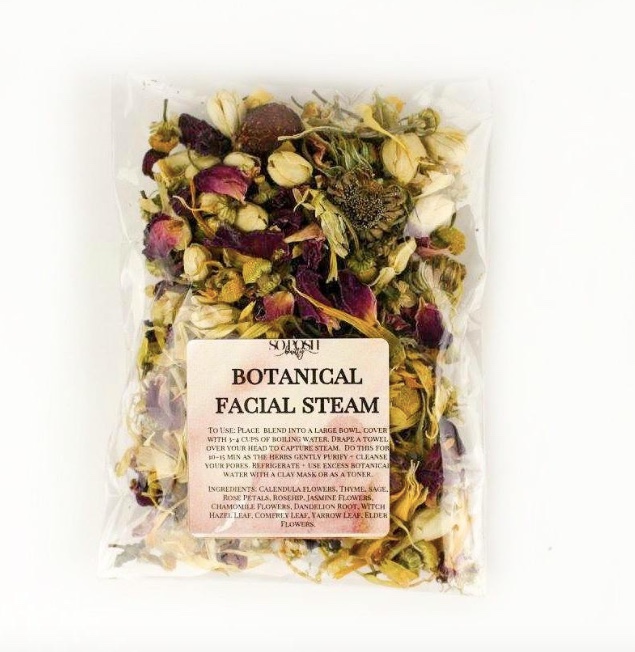 Botanical Facial Steam by So Posh Beauty
A floral blend used to help open pores, cleanse skin, and reduce inflammation.
An herbal facial steam is an aromatic experience. These herbs are not just good for the skin, they are also a treat for the senses. Practice deep breathing while steaming your face and you will find that you start to feel lighter and more relaxed.
To Use: Place blend into a large bowl, cover with 3-4 cups of boiling water. Drape a towel over your head to capture steam. Do this for 10-15 min as the herbs gently purify + cleanse your pores. Refrigerate + use excess botanical water with a clay mask or as a toner.
10g package (about 2 uses).
Ingredients: Calendula flowers, Thyme, sage, Rose Petals, Rosehip, Jasmine Flowers, Chamomile Flowers, Dandelion Root, Witch Hazel Leaf, Comfrey Leaf, Yarrow Leaf, Elder Flowers.
Do a small patch test before using any new facial product.
PREGNANT and NURSING women, please be sure to get your physicians approval before using any new skincare products.
Read the ingredients list thoroughly before making a purchase. This will help you avoid any potential reactions if you are allergic to an ingredient.
The information on these pages are not intended to treat, cure, prevent, or diagnose any medical condition and are not a substitute for the medical advice of a trained physician.